Last week I was in Lisbon to attend the biggest tech conference in Europe, Web Summit. This event gathered almost 70.000 people, 1800 startups and 1200 speakers on 24 stages. Numbers are impressive but so was the content and my overall experience.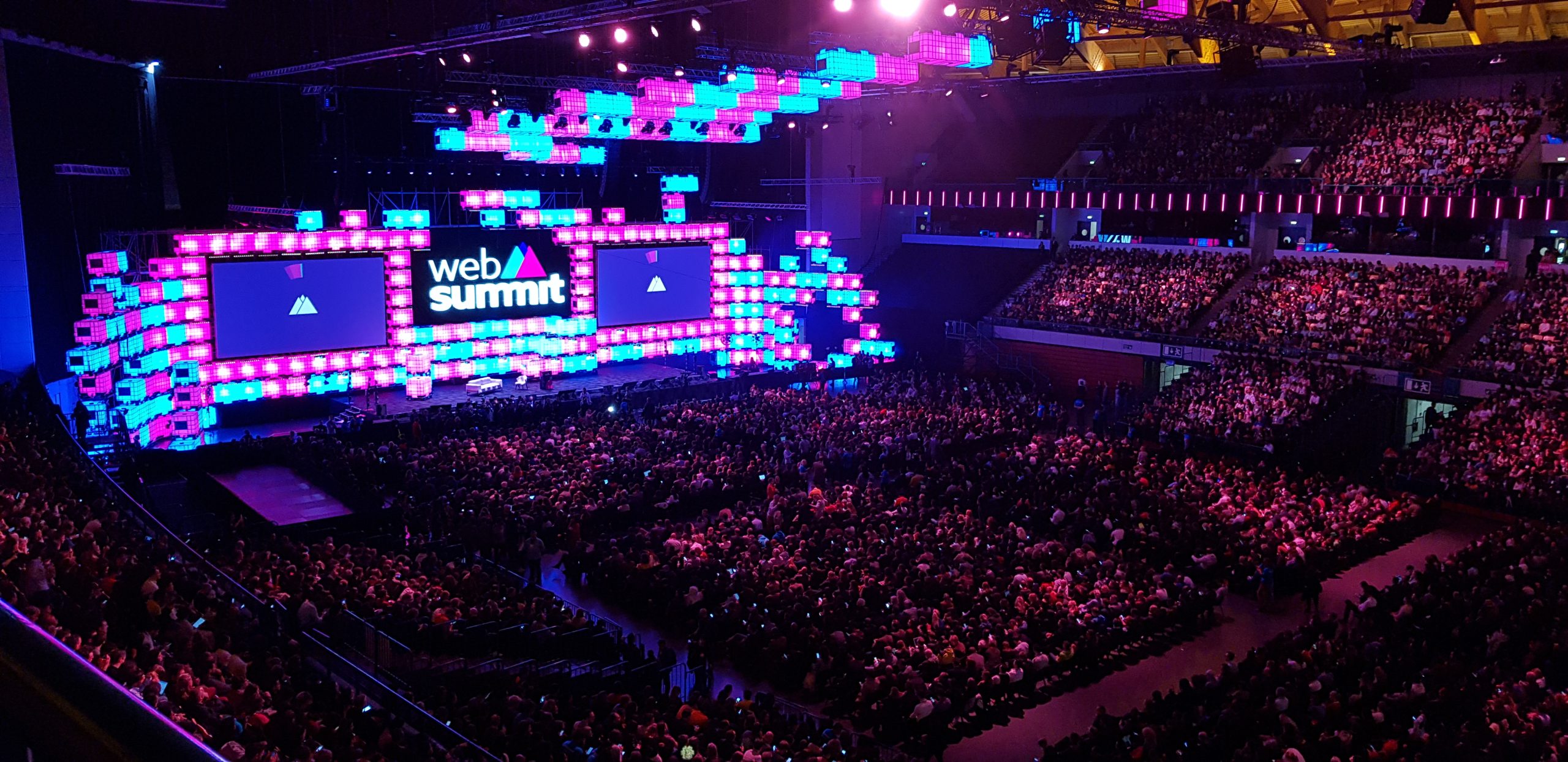 Overall experience
Conferences this big can't be held anywhere. It is crucial that city's infrastructure supports the event of this size. It was easy to find the venue, as metro stations had clear signage. Web Summit has agreed to stay in Lisbon for another 10 years (the city is paying 11 million euros per year for this), so now Lisbon is being rebranded as the "Web Summit's capital". This is a very smart and well done move as this event brings so many tourists to Lisbon and is turning this city into one of the most popular tech and startup hubs in Europe.
Check in went smoothly and there were many volunteers to help if you had any questions. One of the most amazing things organizational wise was that internet worked perfectly everywhere and during the entire time. This is a big issue at many much smaller conferences. Here, the wifi was open and fast. Another surprising thing for me was the cleanliness of toilets (keeping in mind that there were 70.000 people) and there was always paper
The Web Summit phone application is very easy to use and it contains information about all events during the entire conference. It lets you create your own schedule based on which talks on different stages you want to listen to. It also allows you to connect and send messages to anyone who is attending the conference (even to speakers). We were receiving newsletters prior to the conference with important info and tips as well as during the conference with highlights and announcements. The communications team really did a great job and can serve as an example to other conferences!
Opening remarks
Paddy Cosgrave, Web Summit CEO (listed as one of the most influential people in Europe regarding technology) opened the conference. I must say his opening speech was not so strong or maybe that's because of his not so energetic personality. The view of Altice arena completely full with people is an amazing and unique view and it was a "wow" moment as I never saw a conference this big (take a look at the first photo).
Sir Tim Berners Lee, the inventor of the World Wide Web had one of the opening speeches. We are at a point where 50% of the world's population is connected to the internet. He presented a global campaign #ForTheWeb which has two main goals:
1. To make sure that the rest 50% of the world get the internet
2. To make sure that the internet is safe to use and is used for good purposes
You can find out more about this campaign and sign the support on the World Wide Web Foundations website
Lisa Jackson, Apple's vice president for Environment talked about the importance of doing good while earning money and how every business should strive to do both. They started producing phones from recycled material from old and broken iphones. Two robots (one in the US and one in the Netherlands) are disseminating parts of old phones that can be recycled and used again. That's why they started the campaign where you can return your old iphone in stores and they will reuse parts it. By the way, she worked with Obama in the government and is a great and energetic speaker.
Most interesting talks/people I listened to
One of the most interesting talks I attended was Marcelo Pascoa's. He is a global brand marketing director for Burger King. He talked about how people are afraid of great advertising and how great campaigns have to be brave. The most memorable example for me was the commercial before the elections in Brazil. People were saying that they would not vote for anyone. In order to support the voting, Burger King created a commercial where they gave free hamburgers to people who said that they would cast the blank ballot. The burgers they got were without any meat, just the bun, mustard or mayo and onions. When people opened it and started eating, they noticed something was wrong and the taste was bad, so they started complaining. On the package there was a note "This blank whooper was made with the ingredients chosen by someone else. When you let someone chose for you, you can't complain about the results." Watch this commercial.
Sarah Bird, CEO of Moz gave an excellent talk about SEO. It was a bit technical but perfect for the marketers. We learned that when people search google only 2,8% of the clicks are through the ads and 62,2% are because of SEO. 35% of people don't click because they find the result without the need to click on any link since now Google has changed and improved the search results page.
One of the statistics that got the most of attention was from Ian Wilson's (Heineken) talk: 38% of people would rather give up sex for a year than their mobile phone. He talked about how people are using their phone a lot more than desktop or laptop computers (it goes to 80/20%) so they had to figure out a way how to make them enjoy their beer more by giving them some experience through the phone.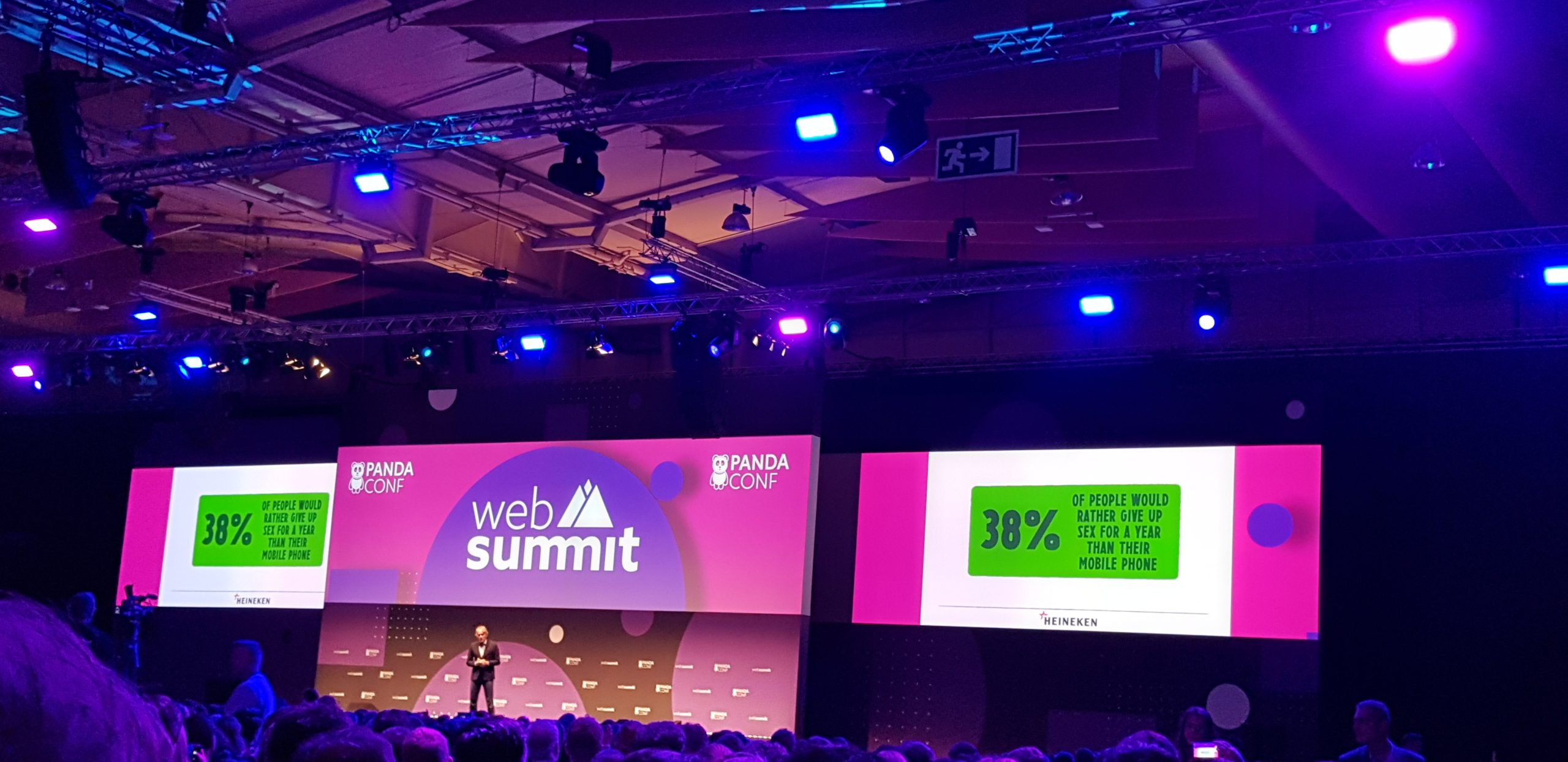 Google had their own small conference at their company stand. They had lectures about how to use Google Assistant, how to be more productive with their apps, healthy lifestyle… They even organized a yoga class. Also, they promoted the new app – Google lens which allow you to search by pictures you take with your camera.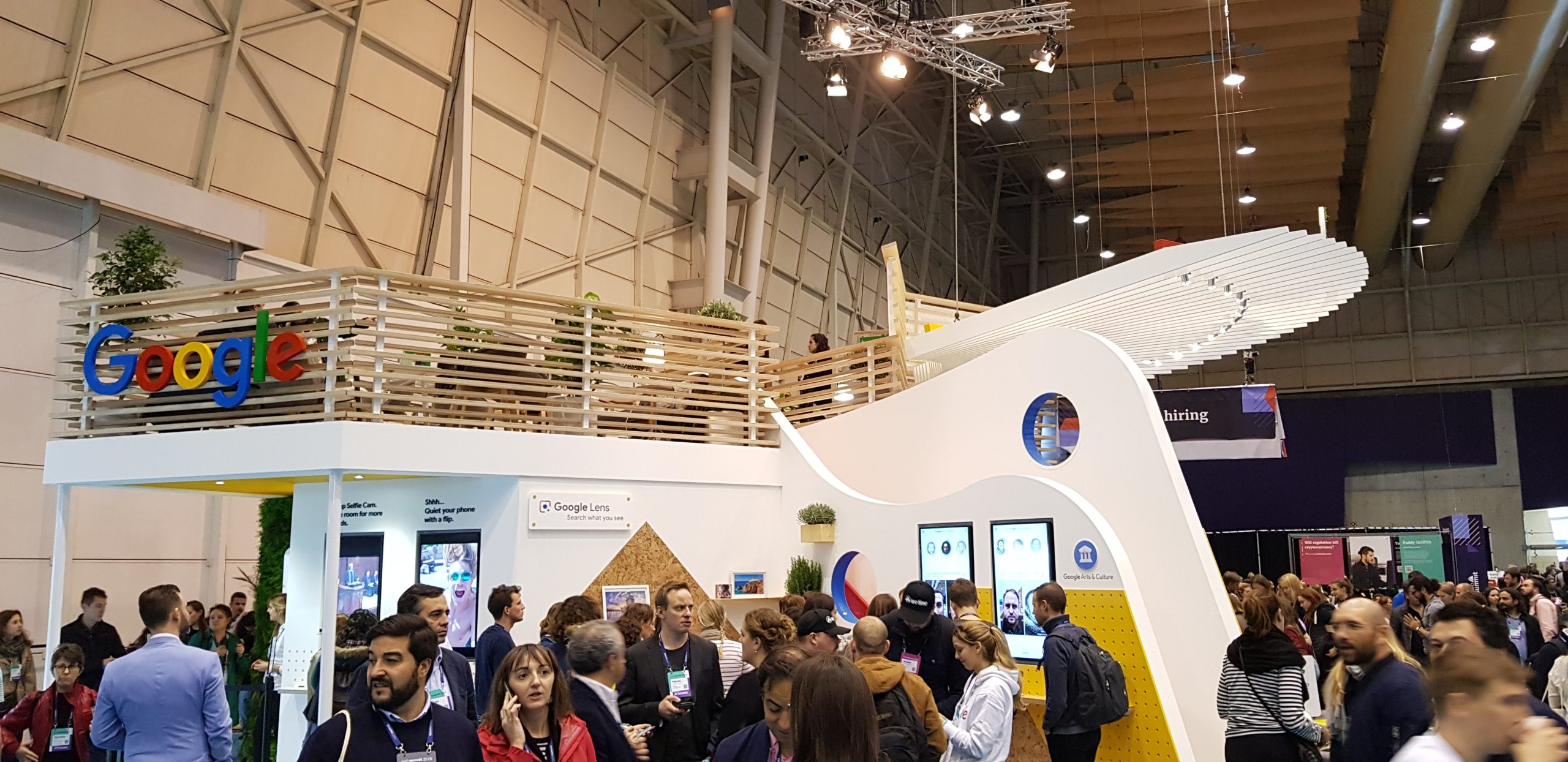 During those four days I was living with the constant feeling that I am missing out on something – which of course, I was. With so many happenings you miss more things than you are able to attend. It is impossible to be everywhere but wherever you are there is something to learn or someone to meet.
Startups
Around 1800 startups had their stands in the pavilions. Different startups were presented every day and it takes few hours to go through all of them, so it is not possible to see everyone but they are separated by topics, so at least you can pick the topic of your interest. Some of them were participating in the Pitch: the startup battle. Wayve is the winner. They are pioneering artificial intelligence software for self-driving cars.
Some other interesting startups I came by are:
Networking
As the quote says: "your network is your net worth", the most valuable things at the events like these are people you meet. Some are entrepreneurs, some are very brave, leaving everything they had in order to chase their dreams. I also hung out with Serbian crew from the association "Digitalna Serbia" and enjoyed finding a way out from the "Escape room". So many young & experienced people in the same place – truly inspiring surrounding. It's very easy to network, approach anyone and start the conversation.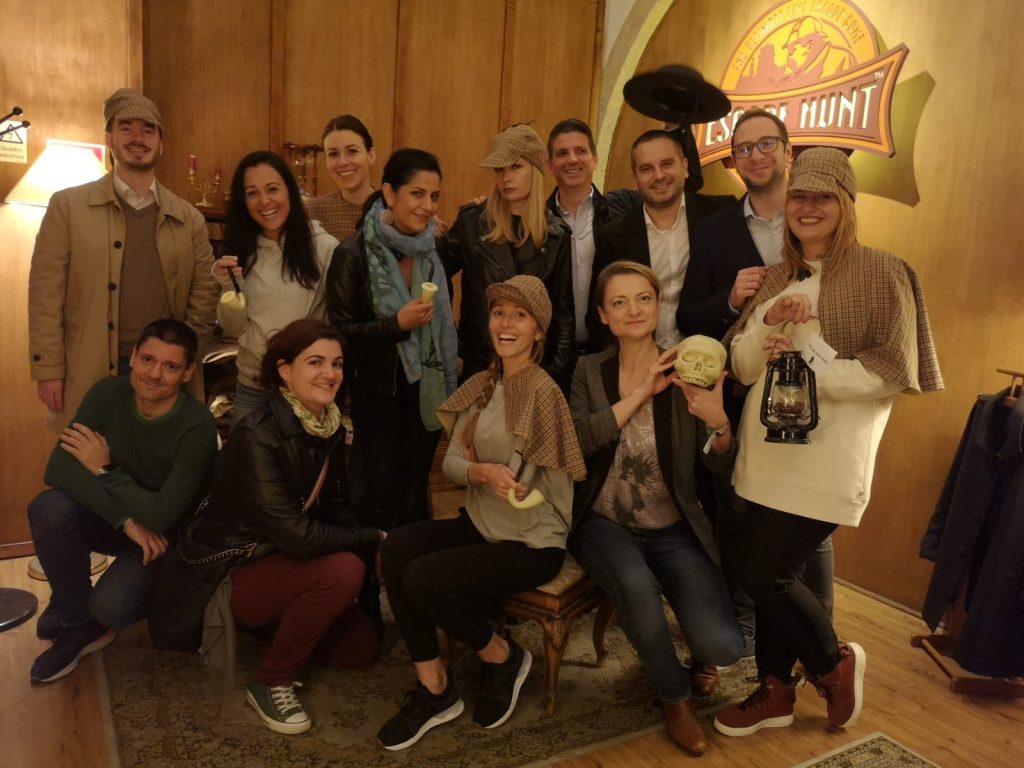 After the forums and lectures, a Sunset summit was organized right across the Altice arena where Web Summit took place. Sunset summit is an evening networking event where you can listen to different bands, DJs, try out Portugeese food and drinks and warm up for the Night summit. Night summit is the party time. It happens in some of the Lisbon's famous party streets (they party on the streets, not so much in the bars or clubs). One of the popular ones is Pink street. It is literary pink and it has an interesting history (It was the "red light distrct" some time ago).
This post is getting long. I will not pretend I can fit a four-day conference in a blog post, but I have tried to sum up the most important and interesting parts in my opinion.
I hope this motivates you to attend the next Web Summit. If you do, let me know and we can meet, 'cause I'm sure going to be there 🙂
Share this blog post with friends if you find it useful and sign up for my newsletter.